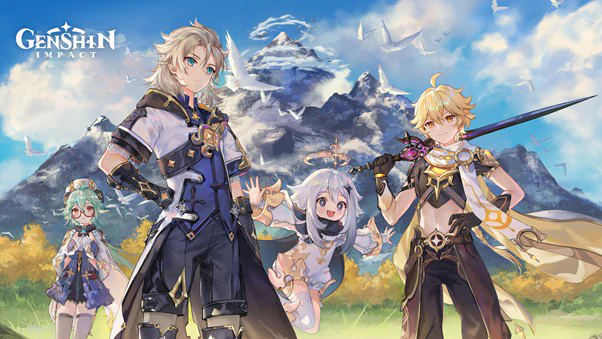 Whether you are a casual gamer or a serious one, there's a high chance you've heard of Genshin Impact. While it was released almost a year ago (on 28 September 2020, to be exact), it's still one of the most high-rated free-to-play games.
This excellent RPG, open-world adventure is a game that most certainly left its mark on gamers with its fantastic art direction, interesting characters, and amazing gameplay.
But have you ever wondered which aspect is one of the most important for the user experience?
It's the voice-overs in different languages! Surprisingly, voices can convey a lot of emotion, and getting it right can be extremely difficult. That's why many gaming companies almost always employ experienced (and often famous) actors for particular game characters.
In this interesting but thorough article, you'll learn everything you need to know about the Genshin Impact video game and its voice-overs. Eager to learn what's the best voice-over in Genshin Impact? Scroll down to find out more!
About Genshin Impact

MiHoYo's Genshin Impact is a free-to-play open-world adventure RPG. It's available on mobile, PC, PS4, and PS5, and it supports cross-platform play.
I was astounded by how big the game was! Genshin Impact has a magnificent, massive open-world through which you can fight, swim, glide, or even fly – and I think it's only going to get bigger with future updates. Not to mention that many people have compared the graphics and gameplay of Genshin Impact to The Legend of Zelda: Breath of the Wild.
It's also important to mention that Genshin Impact is a choose-your-own-adventure game. Even though it has only one definite ending, you can take various routes along the way, and the game lets you explore on your own.
You can also interact with the game's characters in whichever way you like, which can yield wildly different outcomes. Open-world exploration is a top-rated game mechanic which gives you that freedom that we all love – the ability to earn rewards along paths other than the main plot. Since you don't have to worry about time, you can do whatever you want.
The only concern you should have is how much time you want to spend exploring. You can get lost in the world you landed in, or you can travel immediately to the spot where the loot is at – it's totally up to you. Moreover, you can fast-travel across the world through specific waypoints, but you'll also have to travel by foot most of the time (like in other MMORPGs).
When it comes to building your character, you'll have many decisions to make. As you defeat enemies along the way, you get to level up your character and his weapons and skills so you can deal with more formidable enemies.
As for the game elements, the story and combat system of Genshin Impact revolve around the following:
Pyro (fire)
Anemo (wind)
Geo (earth)
Dendro (nature)
Cryo (ice)
Electro (electric/lightning)
Hyrdo (water)
You can adjust yourself to any of the seven elements as the Traveler by standing near specific affinity points inside the game. It further gives your character more choice when it comes to dealing with different enemies.
In a way, Genshin Impact is similar to other MMORPGs and the popular fantasy, tabletop role-playing game, Dungeons & Dragons.
That's because it includes:
the concept of leveling up,
character attributes and talents,
non-combat aspects such as crafting (cooking, processing, alchemy, forging)
The Storyline
After a conflict with a super-powered demigoddess, twins are cast out into an unknown world in Genshin Impact.
You choose a hero to begin the adventure (one of the siblings), and after some plot twists, you are separated from your sibling. The rest of the game is spent in the strange world of Teyvat, meeting other heroes along the way.
You must locate your long-lost sibling and unravel Teyvat's many mysteries. Your mission takes you through beautiful landscapes, crowded towns, and devious dungeons, accompanied by Paimon, a sweet and kind guide.
What Are Voice Overs Genshin Impact?

Voice-Overs (or Voicelines) are character-voiced dialogues. Genshin Impact includes four different voice-over languages:
Chinese (the original one)
Japanese
Korean
English
The game also includes 13 text languages for dialogs:
English
Simplified Chinese
Traditional Chinese
Japanese
Korean
Indonesian
Thai
Vietnamese
German
French
Portuguese
Spanish
Russian
Note: You can change the text and voice-over languages independently and combine them however you like.
What Is The Best Voice-Over Language For Genshin Impact?

Since we can all put our hands in agreement that a lot of emotion can be shown through voices and overall music, let's review the general voice-over languages for Genshin Impact.
As I first started my journey as a Traveler in Genshin Impact, my voice-over language was English. And truth be told, the English version is pretty good, but it's a little flat and archetypical.
What Language Should Genshin Impact Be In?

Once I switched the game to Chinese, it made much more sense, as all the information and personality of the characters were more 'natural.' The reason for this is that a lot of information is lost through translation, although it may not seem like that at first.
Minor differences in tonalities or overall representation can alter all of that in voiceovers, and you may interpret the scenario or characters inaccurately because of the way they talk.
You see, when characters are translated, their personality types and intentions are either altered or lost. The characters sound more genuine and authentic in Chinese because it's the original language. So, for the whole game experience, I'd go with Chinese.
Korean is also not bad, but it seems like voices don't fit the characters and the overall atmosphere on some occasions.
In the end, I recommend trying all of the voice-over languages as we all have different tastes.
Does Genshin Impact Have JP Voice?

Genshin Impact does have Japanese voice-overs, as I already mentioned earlier. If you're an anime fan, I recommend you try it, as the JP version sounds pretty much like the basic anime.
Who Narrated Genshin Impact?

Did you know that most of the voice-overs are done by prominent Japanese voice actors?
One of the famous Japanese voice actors that lend voices to characters in Genshin Impact are:
Akari Kito (Toilet-Bound Hanako-Kun) as Barbara,
Misaki Kuno (Hawk from Seven Deadly Sins) as Klee,
Konomi Kohara (Chika from Love is War) as Mona,
Kōki Uchiyama (Boku No Hero Academia) as Razor, etc.
However, the English version is also not that bad as the famous Yuri Lowenthal (Sasuke Uchiha in Naruto) lends its voice to Deinsleif.
Who Does Aoi Koga Voice?

Aoi Koga is a Japanese voice actress that voices Paiman in Genshin Impact. Paiman is a non-playable character, and she accompanies you as your guide (the Traveler) throughout your whole adventure in Teyvat.
Paiman is Genshin Impact's current mascot on the official website, app, Twitter, and Social media accounts. So cute!
Is Genshin Impact Japanese or Korean?

Perhaps this would come as a surprise, but the answer is – NEITHER. Genshin Impact is a Chinese game created by a Chinese game house called miHoYo.
I have to say, during my research, I stumbled upon a question that so many people have searched: 'Is Genshin Impact Chinese or Japanese?'. It's no wonder since the game is so Manga-like.
Can You Change Voice Language in Genshin Impact?

So, you installed the Genshin Impact, and now you're perhaps wondering, 'How do you get Japanese voices in Genshin Impact?' as you want to try something other than the English version.
Here's how you do it:
Press the Escape button to open the side menu,
Left-click on the gear symbol and open the options menu,
Go all the way down to the Language bar, and choose your voice-over and translation languages.
 As simple as that!
How Do I Change My Genshin Impact Settings?

To open and adjust the settings in Genshin Impact, you will have to do the following:
For Windows 10
Press the Esc button
The pause menu will pop up (called 'Paiman menu' after your guide Paiman)
Press the gear icon
The settings menu will appear
Start customizing
Close it after you're finished.
For PS4 and PS5
Press the OPTIONS button
Press the gear icon
The settings menu will appear
Start customizing
Close it after you're finished on the circle button.
Android and iPhone
Just tap on Paimon's head in the upper left corner
Press the gear icon on the bottom left
The settings menu will appear
Start customizing
When done, press the 'X' button in the upper right corner.
Best Voice-Over In Genshin Impact – Conclusion

So there you have it; a firsthand, detailed Genshin Impact review.
Would I recommend you try it?
Yes, definitely! Don't spend any real-world money initially, as you don't want to invest in a game that still has a lot of upcoming updates.